Decoration for Hangar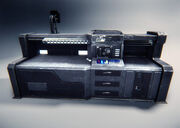 .
Voyager Direct Shop: ¤10,000 UEC  (August 31, 2013)
This work bench is the standard across UEE space. Get yours today and never borrow your neighbor's tools again![1]
Developer Updates
Edit
On approximately October 1, 2015 (possibly coinciding with the release of the Endeavor's Supercollider Module[2]) the workbench's description was updated, removing the overclocking feature.
References
Edit
Ad blocker interference detected!
Wikia is a free-to-use site that makes money from advertising. We have a modified experience for viewers using ad blockers

Wikia is not accessible if you've made further modifications. Remove the custom ad blocker rule(s) and the page will load as expected.