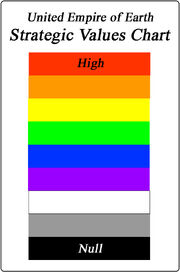 A color coding system of the UEE military about the strategic value of individual planetary systems.
Basically modeled on the rainbow, with the addition of black, grey and white on the bottom. Therefore easy for humans to understand.
Red - highest strategic value
Orange
Yellow
Green
Blue
Purple - most peaceful planet systems
White
Grey
Black - zero strategic value
Known classifications so far
Edit
Red
Orange
Yellow
Green
Blue
Purple
White
Grey
Black
Systems with yet unknown classifications
Edit
Sovereignty Map from RSI Website
References
Edit
Ad blocker interference detected!
Wikia is a free-to-use site that makes money from advertising. We have a modified experience for viewers using ad blockers

Wikia is not accessible if you've made further modifications. Remove the custom ad blocker rule(s) and the page will load as expected.