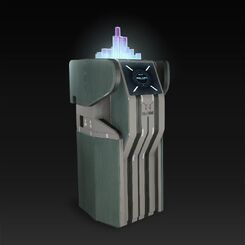 The Jukebox is a piece of subscriber flair which was released on July 18th, 2014.[1] It can play music in the hangar and comes with three tracks by default. The user can play their own music by adding .mp3, .wav, or .ogg files to the StarCitizen/CitizenClient/mods folder. [2]
"If your Hangar is a-rockin'…! This classic 2920 StellarSonic stereo system by Steradians Audio Arts is capable of playing any music file you load into it. Jukebox features an interactive visualizer and the ability to play mp3s from any folder[sic] on your PC. Make your Hangar your Home!"[3]
A non-subscriber version of the jukebox is also in production.[4]
References
Edit
Ad blocker interference detected!
Wikia is a free-to-use site that makes money from advertising. We have a modified experience for viewers using ad blockers

Wikia is not accessible if you've made further modifications. Remove the custom ad blocker rule(s) and the page will load as expected.