Reliant
Manufacturer
MISC
Focus
Utility
Maximum Crew
2
Standalone Price
$50[1]
Mass (empty)
18,750 kg
Cargo Capacity
10-30 SCU
Length
13m
Height
6m
Beam
29m
Max Power Plant Size [?]
1
Factory Power Plant
Xi'An High-Yield Plant (2)
Max Engine [?]
(primary thruster)
2x TR1
Maneuvering Thrusters [?]
12× TR1
Max Shield [?]
3-4
Shield
INK-204 - INK-304
Hardpoints
Weapons Systems
5×
Class 1
Class 1 Weapon Systems
2×
Class 2
Class 1 Weapon Systems
1×
Class 3
Class 3 Weapon Systems
The Musashi Industrial & Starflight Concern Reliant is the third starter ship. It was built specifically to best accommodate some of the more PU-focused play-styles like Research and Reporting. It is the only starter ship with two seats.[2]
Reliant variants
Edit
There are currently 4 Reliant variants in production.[3]
Reliant Kore - Mini Hauler
Edit
The Reliant Kore - Mini Hauler is the base model of the Reliant. It is specifically designed as a multi-purpose ship and has a larger carrying capacity than many ships in its class.[4][3]
Reliant Sen - Researcher
Edit
The Reliant Sen - Researcher (Variant A) is a science-oriented model that carries internal signal dampeners and an advanced scanner suite for discovery missions.[5][3]
Reliant Mako - News Van
Edit
The Reliant Mako - News Van (Variant B) is designed for deep space broadcasting, the 'News Van' Reliant adds an Image Enhancement Suite that helps capture every moment of life in the stars.[6][3]
Reliant Tana - Skirmisher
Edit
The Reliant Tana - Skirmisher (Variant C), is the combat version of the Reliant. It trades cargo for a high-yield powerplant, stronger shields and additional weapons mounts.[7][3]
Official Description
Edit
With the success of the Freelancer Built for Life campaign, MISC has moved to join RSI and Consolidated in the single-seat introductory starship arena. Their silver bullet? A starter ship with more than one seat… and their ace in the hole: Xi'An technology. Where the Aurora is a pure utilitarian platform and the Mustang is a delicate, maneuverable personal transport, the Reliant is MISC's most Xi'An tech-heavy ship to date. Featuring impossibly sleek lines, two separate crew seats and a vertical fuselage design, the Reliant's streamlined cockpits glow with some of the finest xenotechnology available![8][2]
Horizontal to vertical transformation
Edit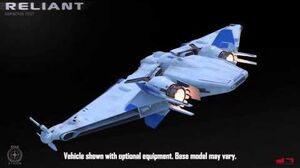 All Reliant variants are capable of transforming between a vertical and horizontal orientation. The vertical-configuration will be the ideal combat and maneuverability mode of flight because of a better spread of the thrusters. The Horizontal configuration won't handle as well, but will have an improved top-speed over the Vertical mode. Right now it's only planned to have you getting in/out of the seats while the ship is in Horizontal mode. The upper-seat will be the pilots chair, with the lower seat the gunner/turret operator.[2]
Starter Status
Edit
The MISC Reliant will be available as a "Tier II" starter ship. It has been announced that it will be available as a standard starter package. The ability to seat 2 pilots and unnamed starter package extras will make this package slightly more expensive than the standard Mustang and Aurora starter packages.[2]
References
Edit
Ad blocker interference detected!
Wikia is a free-to-use site that makes money from advertising. We have a modified experience for viewers using ad blockers

Wikia is not accessible if you've made further modifications. Remove the custom ad blocker rule(s) and the page will load as expected.