Reliant Kore - Mini Hauler
Manufacturer
MISC
Focus
Starter
Maximum Crew
2
Standalone Price
$50[1]
Mass (empty)
18,750 kg
Cargo Capacity
30 SCU
Length
13m
Height
6m
Beam
29m
Max Power Plant Size [?]
1
Max Engine [?]
(primary thruster)
2x TR1
Maneuvering Thrusters [?]
12× TR1
Max Shield [?]
3
Shield
INK-204
Hardpoints
Weapons Systems
3×
Class 1
Class 1 Weapon Systems
1×
Class 3
Class 3 Weapon Systems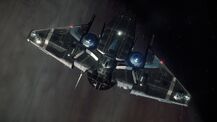 The Reliant Kore - Mini Hauler is a ship by Musashi Industrial & Starflight Concern. It is the base model of the Reliant. It is specifically designed as a multi-purpose ship and has a larger carrying capacity than many ships in its class.[2][3]
Official Description
Edit
With the Reliant Kore, MISC adds to its already impressive lineup of ships, a smaller introductory-class spacecraft. Utilizing advanced Xi'An designs, the Reliant features broad, sleek wings, omni-directional thrusters and a fully-articulated two-seat cockpit that supports horizontal and vertical flight modes. All of this combines with a larger carrying capacity than many ships in its class to make the Kore a natural choice for short-range hauling, or with the simple addition of a few optional components, this can-do ship can do anything you dream of.[3]
References
Edit