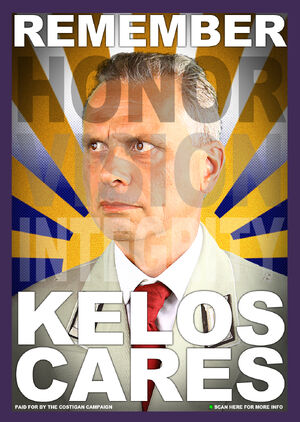 Kelos Costigan is the current Imperator of the UEE, and former High Secretary. He is a member of the Universalist Party. [1]

A budget spiraling out of control. The Synthworld Project's future in question. Vanduul attacks on the rise in the Western systems. Problems for us all, sure, but it's tough to keep in perspective when you're trying to support a family. In these times of economic instability, you want an Imperator that will right the ship and set it back on course. That candidate is Kelos Costigan.
An economic strategist for over two decades, Kelos helped dozens of worlds reach the technological equality that most of us take for granted. Policies enacted in his second term as High-Secretary yielded the highest single-cycle growth in thirty-seven years. He has the experience and the knowledge to help get humanity out of the red and back in the black.
- 2928 Campaign Ad[2]
References
Edit
Ad blocker interference detected!
Wikia is a free-to-use site that makes money from advertising. We have a modified experience for viewers using ad blockers

Wikia is not accessible if you've made further modifications. Remove the custom ad blocker rule(s) and the page will load as expected.