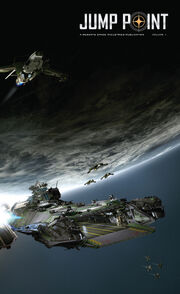 Jump Point Volume 1: all 650 pages of the first 13 issues of Jump Point, bound together in one book. Each printed page has two original Jump Point pages (8.5" x 7"), resulting in a jumbo, 8.5" x 14", 330-page archive on the first year of Star Citizen.
As a special thank you, we have listed in the book the monikers of every subscriber during our first year of publication.[1]
References
Edit
Ad blocker interference detected!
Wikia is a free-to-use site that makes money from advertising. We have a modified experience for viewers using ad blockers

Wikia is not accessible if you've made further modifications. Remove the custom ad blocker rule(s) and the page will load as expected.