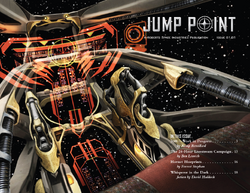 Jump Point
is a
subscriber only
monthly digital magazine of
Star Citizen
, which includes updates from the
team
and new in-universe Star Citizen fiction from the writing team. The Editor in Chief of the Jump Point is David Ladyman.
The first issue of Jump Point was released to the general public on 21st of December 2012, as a preview of the extra in-depth content that CIG is able to deliver thanks to the generous backing of "Development Subscribers".
A printed collection of all first year Jump Point issues, named Jump Point: Year One, will be provided to any Imperator, who subscribes for the entire first year of development.
Volume One
Edit
Volume Two
Edit
Ad blocker interference detected!
Wikia is a free-to-use site that makes money from advertising. We have a modified experience for viewers using ad blockers

Wikia is not accessible if you've made further modifications. Remove the custom ad blocker rule(s) and the page will load as expected.