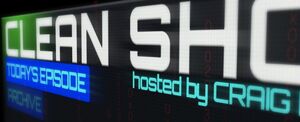 "
The information disseminated in this broadcast is user-generated and considered current at time of recording. Farnes Media Partners are not responsible for the accuracy of the information after recording. Listeners should factor in accuracy decay when planning routes.
"

–Legal Disclaimer[1]
Clean Shot is a user-generated news broadcast owned by Farnes Media Partners and hosted by Craig Burton. Among its features are shipping updates and economy analysis. Specific broadcasts are sponsored by ad-spots of various organizations (e.g. Torreele FoodStuffs). [1]
Ad blocker interference detected!
Wikia is a free-to-use site that makes money from advertising. We have a modified experience for viewers using ad blockers

Wikia is not accessible if you've made further modifications. Remove the custom ad blocker rule(s) and the page will load as expected.