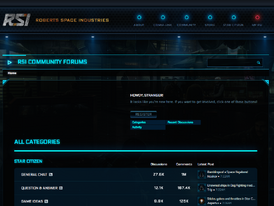 The Citizen Forums is a section of the RSI website where citizens can discuss issues related to the game as well as receive occasional developer responses.  It is directly integrated with many of the site's other features, including the Player Organizations system.
List of Forum Categories
Edit
Star Citizen
Edit
For discussion about the game itself.
Sub-Catagories
General Chat
Question & Answer
Game Ideas
Star Citizen Community
Edit
For discussion of community-related activities, not explicitly a part of the main game.
Sub-Catagories
Fan Art & Fiction
Fan Sites
Modding
The Next Great Starship
Organizations
Gathering / Events / Meet-ups
Cloud Imperium Games
Edit
For interacting directly with employees of Cloud Imperium Games.
Sub-Catagories
Ask a Developer!
Customer Support
Test Pilot Headquarters
Edit
For discussing current builds of the game.
Sub-Catagories
General Bug Reports
Launcher - Install/Patch/Download
Art - Animation/Geometry/Textures
Gameplay - Engine/UI
Organizations / Chat
Other Discussions
Edit
For discussions that don't fall under the Star Citizen label.
Sub-Catagories
Hardware
Wing Commander
Starlancer/Freelancer
Conquest Frontier Wars
Other Games
Off Topic
References
Edit
Ad blocker interference detected!
Wikia is a free-to-use site that makes money from advertising. We have a modified experience for viewers using ad blockers

Wikia is not accessible if you've made further modifications. Remove the custom ad blocker rule(s) and the page will load as expected.