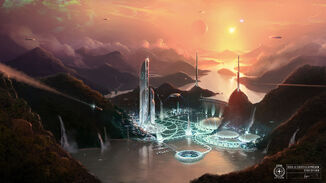 Cassel is the second planet in the Goss system. It's pronounced Cas-séll. The Cassel natives get irritated when it is pronounced like "castle." Cassel is 85% water and much of the rest of the planet is tropical rainforest, which makes it a perfect place for human tourism.
Orginal home of the prized aquarium fish, the Midas fish. [1] [2]
References
Edit
Ad blocker interference detected!
Wikia is a free-to-use site that makes money from advertising. We have a modified experience for viewers using ad blockers

Wikia is not accessible if you've made further modifications. Remove the custom ad blocker rule(s) and the page will load as expected.