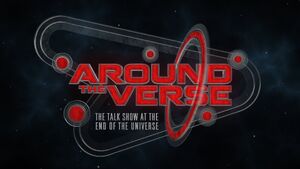 Around the Verse
is a weekly video broadcast brought to the fans by the crew of
Cloud Imperium Games Corporation
.
The first episode was scheduled to play on June 11, 2014, at 3:00 PM PST,[1] and is expected to repeat every Thursday, at 9:00 AM PST.[2][3]
Starting at the end of Season 2 with the 4 part special Episode 100, a new format has been introduced to ATV. In this new format each of the 4 studios take turns hosting an episode of ATV, with the current order being LA->UK->Austin->Frankfurt. Then the cycle repeats.
The show is made possible by donations of subscribers.
A list of Around the Verse episodes and transcipts can be found here: http://imperialnews.network/category/cig-shows/around-the-verse/
References
Edit
Ad blocker interference detected!
Wikia is a free-to-use site that makes money from advertising. We have a modified experience for viewers using ad blockers

Wikia is not accessible if you've made further modifications. Remove the custom ad blocker rule(s) and the page will load as expected.